The Tory Party has a long history of opposing radical
governments in Latin America. Former Tory
Prime Minister, Margaret Thatcher, was a close personal friend and advisor to
the Chilean dictator, General Pinochet, as well as the Argentine Junta, before
the Falklands conflict.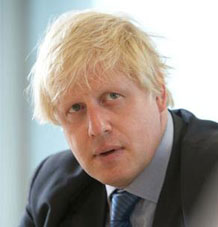 Boris Johnson

It is therefore no surprise that a few days ago London's Tory mayor,
Boris Johnson, scrapped the discounted oil deal with the Venezuelan government
which allowed half price bus fares for Londoners on income support. Johnson is
an opponent of the Venezuelan revolution and was keen to distance his
administration from the deal signed by the former Mayor, Ken Livingstone.
The scrapping of the deal means that bus fares for those on
low income are expected to double by the end of year, causing serious financial
hardship for the 80,000 Londoners who had taken advantage of the scheme.
The agreement was made when Chavez visited London
in 2006, which bartered London's
advice on city planning for cheap Venezuelan oil. Johnson has also
scrapped the £67,000 unit in Caracas
to oversee the arrangement.
"Clearly Johnson is being vindictive towards the poorest
people of London
who have benefited from this cheap oil deal. His hatred towards Chavez and the
Venezuelan Revolution is revealed in this spiteful act", stated Rob Sewell of
the Hands off Venezuela Steering Committee.
The attack by Boris the Barbarian is part of the general
attack on the Venezuelan revolution, both from imperialism and the local
oligarchy. We must step up the struggle to defend the revolution and assist its
completion. That is the only real answer to the Boris Johnsons of this world.