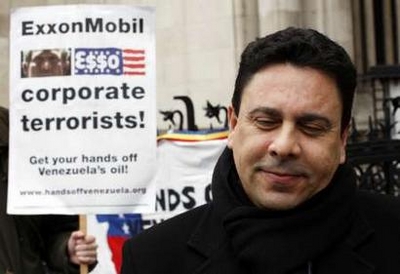 A London High Court judge on Tuesday suspended a court order
which froze 12 billion dollars (7.6 billion euros) of assets owned by Venezuela
state oil firm PDVSA in a dispute with US energy giant ExxonMobil.
"The judge hasn't allowed his court or his country to be an instrument"
of Exxon, Samuel Moncada, Venezuela's ambassador to the U.K., said in
an interview. "This decision should have an effect on any reasonable court in
the world."
Addressing a group of solidarity activists gathered to hear
the ruling, Moncada added: "Over 2 weeks it has been argued, and
an English judge has decided not to support the Exxon case, but to support
the Venezuelan case. Your slogan, Hands off Venezuela, is more relevant
than ever, today."
Hands Off Venezuela has mobilised , together with other
solidarity activists, outside the High Court in London and outside the
ExxonMobil offices to protest against this move to freeze PDVSA assets.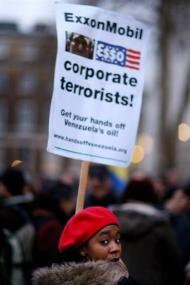 ExxonMobil started a number of judicial cases against PDVSA,
after the Venezuelan government decided, in March 2007, to nationalise the massive
oil reserves of the Orinoco Belt, in which the US multinational was operation
as part of a "strategic association" with PDVSA.
The overwhelming majority of the companies operating in that
field accepted the new proposed agreements, in which the Venezuelan PDVSA has a
majority stake with a minimum of 60% of the shares, but US based ExxonMobil and
ConocoPhillips, refused and went to international arbitration.
At the beginning of February, ExxonMobil obtained cautionary
rulings from courts in the United States, Britain, the Netherlands and the
Dutch Antilles to freeze 12 billion dollars of PDVSA's global assets.
The London High Court judge, Paul Walker, will issue a
detailed explanation of his ruling on Thursday.
Exxon was ordered to make an interim payment of 380,000 pounds to cover
legal costs within 21 days, although the final bill is expected to be much
higher.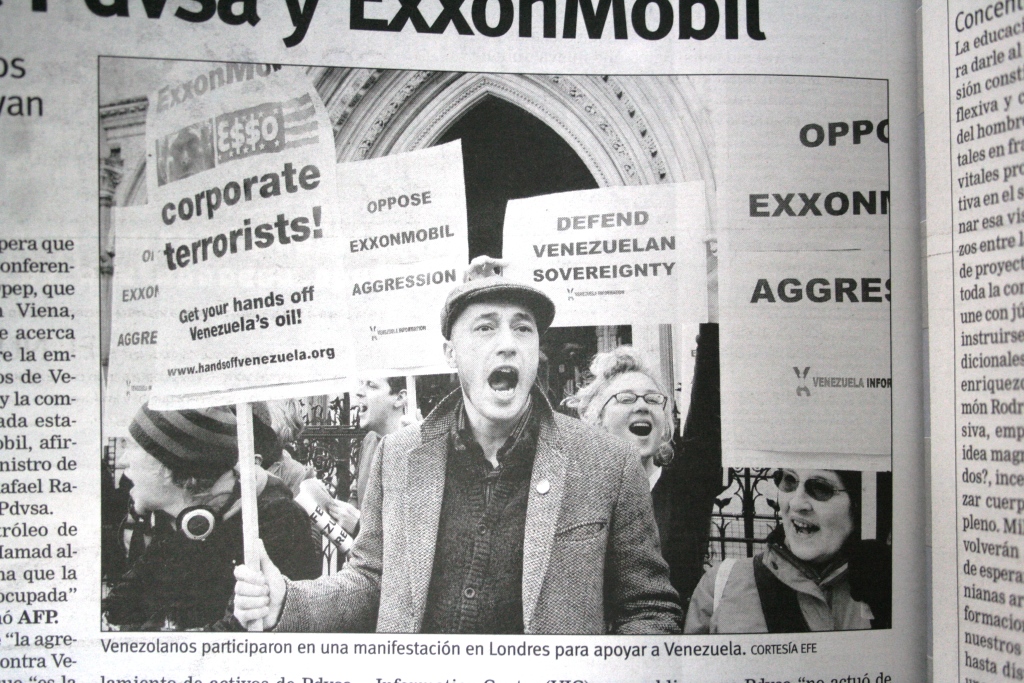 PDVSA lawyer George Pollock said damages the state oil company could claim
included increases in the cost of corporate borrowing for its projects.
Exxonmobil's
lawyer, Catharine Otton-Goulder, said she had no comments to make.
Hands Off
Venezuela activists present in London expressed their joy at the ruling. "This
was part of a campaign of intimidation and threats by imperialism against the
Venezuelan revolution".